From the end of March through the end of August, stocks had a tremendous runup to record high levels. The gains completely wiped out the losses from the mid-winter 'coronavirus collapse,' and it looked like we were in for a sustained run of good days. But all of that changed as September rang in. The market hit a bump, and has been undergoing a correction.
It's at times like these that some comprehensive stock analysis is most helpful. Investing.com has the right tool for that job: the Smart Score, which analyzes 6 separate factors, all collected and measured by AI algorithms, and uses them to generate a simple, comprehensive score for the market's most traded stocks. The Smart Score follows factors such as analyst, blogger, and news sentiment, to see what the conventional wisdom is on a stock; hedge fund activity, insiders trades, and individual investor actions, to see what investors of all sizes are actually doing. The result is single-digit score providing a gestalt opinion of the stock at question.
With this mind, we've used the tool to pinpoint three stocks with "perfect 10" Smart Scores. We will see why these companies scored so highly, and what Wall Street's analysts have to say about it.
Camping World Holdings (CWH)
We'll start with a company that has a unique advantage during these pandemic days. Camping World Holdings (NYSE:CWH) is the largest retailer of RVs in the US, along with their related camping and maintenance gear, and the support services and insurance plans required to keep up such a vehicle. CWH has more than 200 retail locations in its network, operating in 36 states.
After taking one-time administrative losses in Q4 of last year, CWH saw earnings improve in 1Q20, and improve further in the second quarter. Q2 earnings, at 69 cents per share, beat the forecast by 43%. Quarterly revenue rose 56% sequentially, to reach $1.61 billion. The company also boasted over $227 million in available cash at the end of the quarter.
Strong sales for an RV company make sense this summer. The coronavirus pandemic has forced imposition of social distancing measures in many states, and RVs are a recreation that is inherently compatible with such restrictions.
Ryan Brinkman, covering the stock for JPMorgan, commented, "…structural demand tailwinds relative to consumers looking to travel in such a way as to avoid contraction of COVID-19 seems set to continue to more than outweigh the cyclical headwinds impacting demand in many other end-markets. This growing demand, coupled with the company's improved execution that resulted in breakout 2Q EBITDA performance, assuages earlier concerns relative to execution and leverage."
To this end, Brinkman rates the stock an Overweight (i.e. Buy), and his $44 price target implies an upside of 50% for the coming year.
Overall, Camping World Holdings has a Moderate Buy analyst consensus rating, based on an even split of 4 Buy reviews and 4 Holds. The shares are selling for $29.20, and the average price target of $38.86 suggests a one-year upside potential of 33%. (See CWH stock analysis)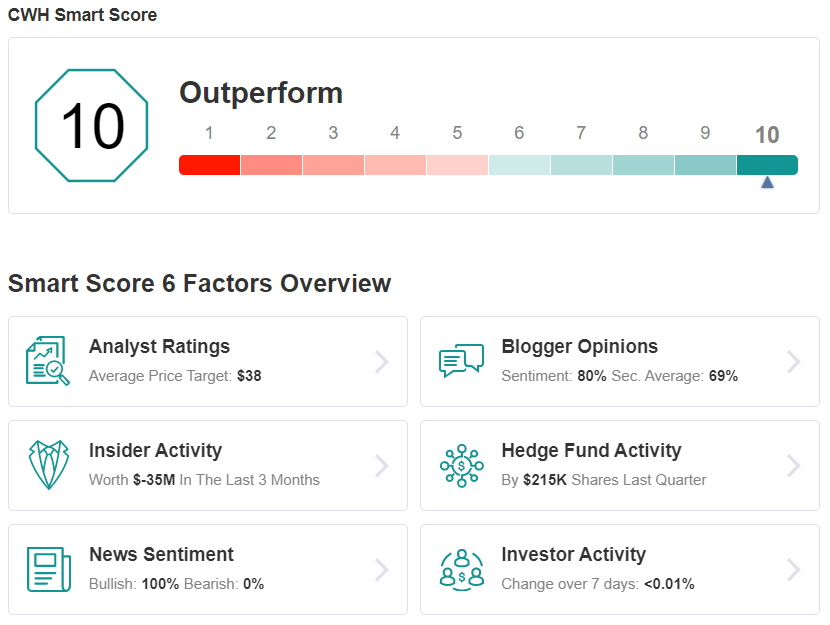 CWH Smart Score
Home Bancshares (HOMB)
Next up is a bank holding company, Home BancShares (NASDAQ:HOMB), whose subsidiaries have over 160 branches catering to snowbirds in Florida, Alabama, Arkansas, and New York City. The company boasts a $2.4 billion market cap, and $16.9 billion in total assets.
Home Bancshares stock has only partially recovered its share price since the mid-winter swoon – in that, the company has performed like many other bank companies so far this year. The corona pandemic and social and business restrictions put a damper on brick and mortar bank branch traffic. But HOMB's revenues and earnings have outperformed. Revenues for Q2, at $171.6 million, are the highest in a year, and earnings clobbered the forecasts in both Q1 and Q2. The second quarter result, of 47 cents per share, was 80% better than expected.
In July, HOMB declared its fiscal Q3 dividend, of 13 cents per common share, paid on September 2. This is the sixth consecutive quarter with the dividend at this level. The payment annualizes to 52 cents per share, and gives a yield of 3.54%. While that may not sound like much, the average dividend yield among S&P listed companies is only 2%.
Singing the banking name's praises is Piper Sandler analyst Stephen Scouten.
"Given that the bank is seeing improved occupancies at many of its hotel categories, seeing recent weighted-avg rent collection of 83% in retail, and possesses a 2.15% LLR (ex PPP) – we continue to view the bank as well-reserved and well-positioned to take advantage on the other side of this recession," Scouten opined.
Scouten's $19 price target suggests a 30% upside potential, supporting his Overweight (i.e. Buy) rating.
Overall, Home Bancshares has a Moderate Buy analyst consensus rating, based on 5 reviews split 3 to 2 between Buys and Holds. The stock has an average price target of $18.40 and a current trading price of $14.68, implying a 12-month growth potential of 26%. (See HOMB stock analysis)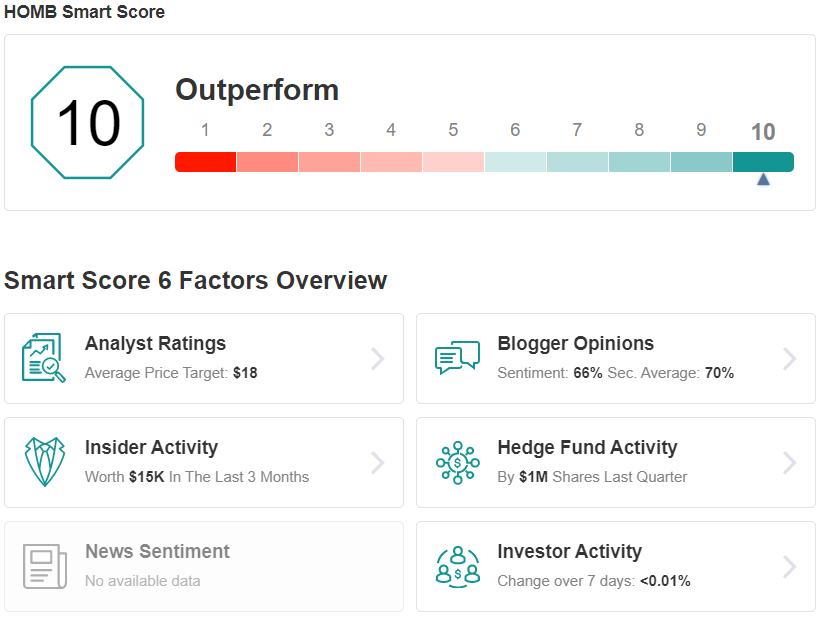 HOMB Smart Score
Agree Realty Corporation (ADC)
Last on our "perfect 10" list is a real estate investment trust (REIT) based in the Metro Detroit area. Agree Realty (NYSE:ADC) has a huge portfolio – 935 properties in 46 states totaling over 18 million square feet of leasable space. The company's portfolio is focused on shopping centers and single tenant retail properties.
Where many REITs had difficulty during the pandemic's height in collecting rents, Agree has been remarkably successful in that area. The company reports that it has received rents from 91% of its portfolio for the second quarter, and has deferral agreements for another 3%. Preliminary Q3 numbers are even better – for July, the company has a 95% rent payment rate, and for August, 96%.
Collecting rents ensures income, and that in turn ensures earnings. Revenues for 1H20 have been rising modestly, from $55.8 million in Q1 to $57.5 million in Q2. EPS rose sequentially in the first quarter, but slipped in the second – yet, the Q2 EPS still beat the forecast by 5.5%.
Agree's firm financial foundation allowed it to raise the dividend payment during the pandemic period, setting the payment at 60 cents per common share. With an annualized payment of $2.40 and a yield of 3.75%.
Berenberg analyst Nate Crossett notes the high rent collection, and its implication for the company's profitability.
"We are very encouraged by this data point, and believe that the ultimate amount of losses via rent reductions/credit events will be minimal […] With a strong acquisition engine driving AFFO growth (bolstered by a significant cost of capital advantage [shares trading at 125% of NAV, versus net lease at 99%]), and pro forma leverage (1.6x net debt/EBITDA) the lowest in the space, we believe ADC is poised to continue to outperform the net lease group in H220."
Accordingly, Crossett rates ADC a Buy, and his $78 price target implies room for a 25% upside potential.
All in all, Agree Realty has a unanimous 'Strong Buy' analyst consensus rating, based on 7 Buy reviews. The shares are selling for $62.30 and have an average price target of $77.17, making the upside potential 24% for the coming year. (See ADC's stock analysis)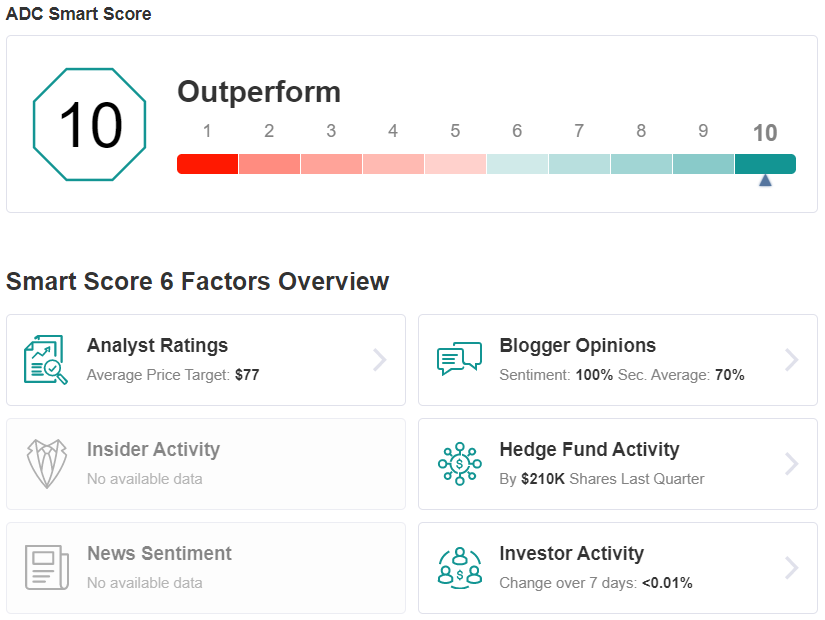 ADC Smart Score
To find more ideas for stocks trading at attractive valuations, visit Investing Insights.