Nike (NYSE: NYSE:NKE) surged on Wednesday, opening with a huge gap to the upside, after its first quarter earnings report came in much better than expected.
The stock hit a new all-time high just fractionally below the round figure of 130.00 (specifically at 129.94) and then it retreated somewhat. Overall, the stock continues to print higher highs and higher lows above the upside support line drawn from the low of March 23rd, something that keeps the outlook positive.
That said, after the instant surge, the stock may correct low, perhaps to test its previous record of 120.60, hit on September 15th, as a support this time. If investors decide to add to their positions at that zone, we could see another leg north and perhaps a break above the round number of 130.00.
This will confirm a fresh record for the stock, and given that there are no prior peaks or troughs to mark any potential resistance barriers, we would consider as a target the next psychological level, at 135.00.
Shifting attention to our short-term oscillators, we see that the RSI emerged above 70, but has now flattened, while the MACD lies well above both its zero and trigger lines, pointing up. Both indicators detect strong upside speed, but the fact that the RSI fattened somewhat adds to our view that a corrective setback may be on the cards before the next positive leg.
In order to abandon the bearish case, we would like to see the price dropping below 110.50. This will also take the stock below the aforementioned upside support line, and may initially trigger declines towards the 107.20 area, marked by the low of August 20th, the break of which could extend the slide towards the low of August 12th, at around 103.55. Another break, below 103.55, may pave the way towards the psychological territory of 100.00, which provided strong resistance on July 6th and 23rd.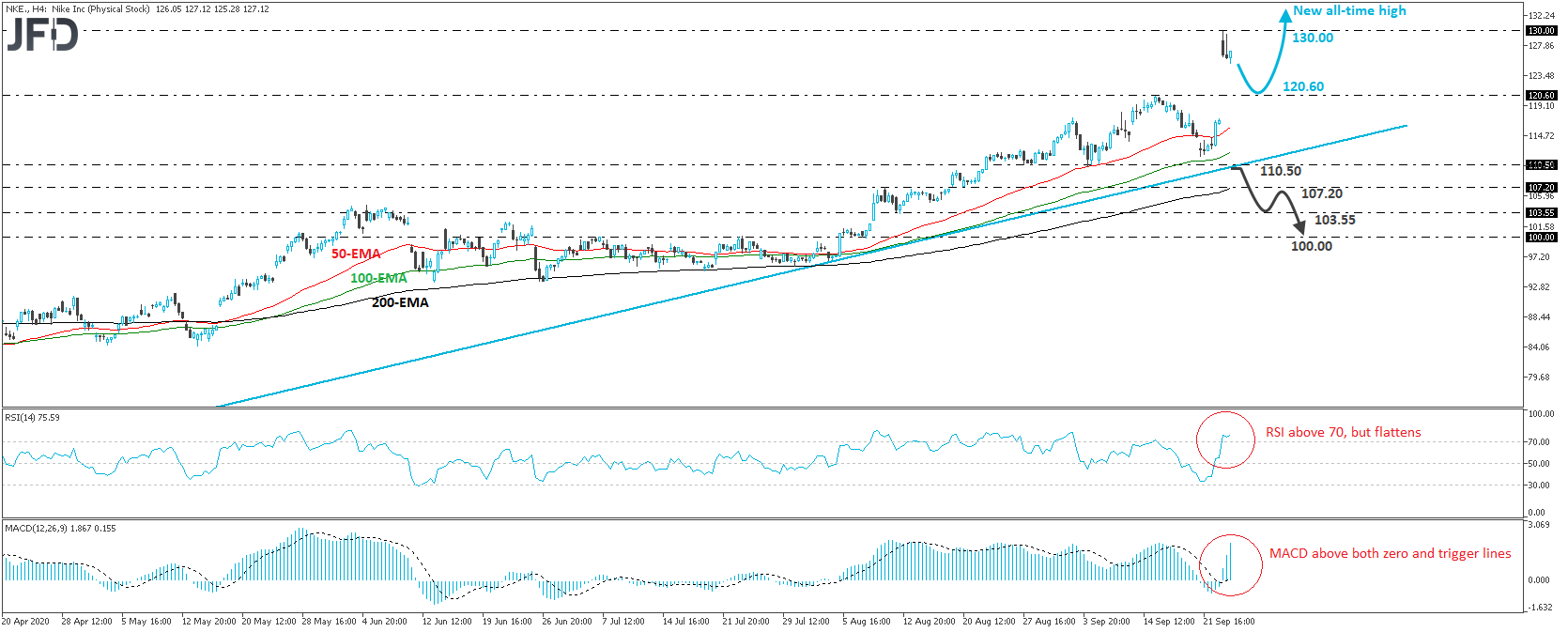 Nike Inc 4-hour chart technical analysis