It's certainly not an easy task for a sports brand to overcome challenges presented by the global health crisis. Widespread lockdowns, cancellation of sporting events and a sharp economic downturn created a perfect storm for retailers. But Nike's (NYSE:NKE) earnings report, released Tuesday, shows it's not the same story for all retailers.
The world's largest sportswear maker returned to profit in its fiscal first quarter, and posted much better results than what analysts had predicted, powered by surging e-commerce sales. Revenue rose to $10.6 billion, compared with the $9.11 billion consensus estimate. Digital sales soared 82% in the quarter ended Aug. 31.
The company posted $ 0.95 a share in earnings, exceeding the $0.46 consensus forecast. The latest results showed a robust turnaround from the spring quarter, when the sneaker giant's revenue plunged 38% amid store closures.
The biggest surprise in this remarkable comeback was that Nike is emerging stronger from the pandemic due to its superior e-commerce operations and successful execution. That means the disruptions caused by the store closures and lockdowns didn't hurt its brand appeal and customers are quickly returning.
"We're getting stronger in the places that matter most," Chief Executive Officer John Donahoe told analysts during a conference call.
"In this dynamic environment, no one can match our pace of launching innovative products and our brand's deep connection to consumers."
During the pandemic, he said, the company gained market share across the Nike and Jordan brands and returned to growth in international markets, including China and Europe.
Investors were thrilled to see that the company is navigating the crisis successfully and its strategy is working. Nike shares surged to a record high during Wednesday trading, rising as much as about 11% to $129.57.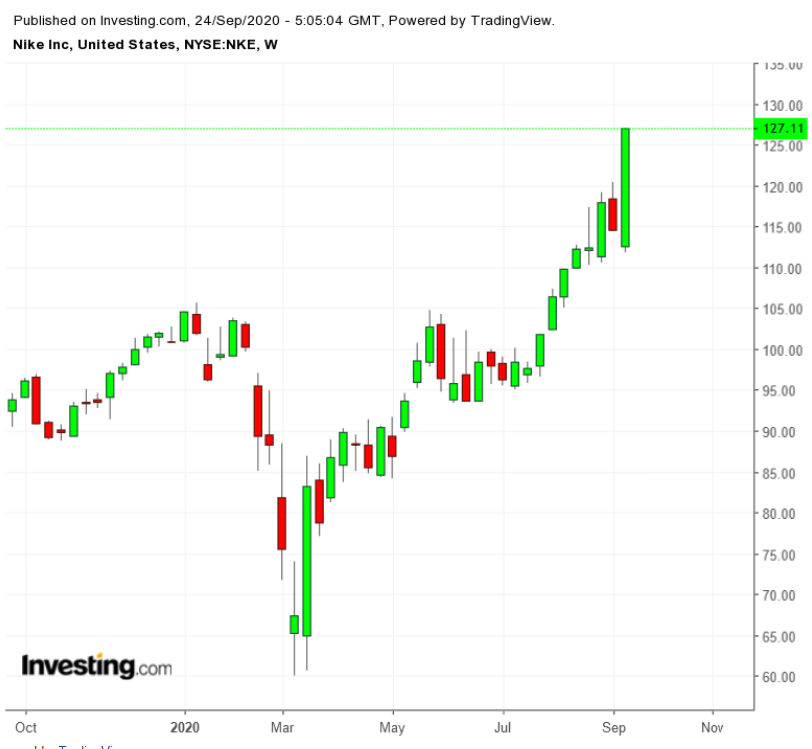 NKE Weekly TTM
They closed yesterday at $127.11, an 8.76% gain on the day. Shares had been up almost 15% this year through Tuesday's close.
Nike was among the earliest companies to get caught up in the coronavirus-triggered slowdown. The global sportswear giant was forced to close its stores in China–its second-largest market after the U.S.–when the COVID-19 pandemic hit that nation early this year, endangering sales from the company's largest Asian market.
But the latest results show that Nike's Sino recovery is accelerating. Sales in China rose 6% for the quarter as the country succeeded in containing the virus and reviving its economic activity. In North America, Nike's largest market, sales were down 2%, but still ahead of analysts' predictions.
Many analysts believe that these initiatives and strategic investments, particularly in digital, should help Nike to regain its full growth potential in fiscal 2021. Morgan Stanley reaffirmed its "Overweight" rating on Nike while raising its price target to $142 from $121, highlighting Nike's commitment to accelerate its direct sales, robust athletic footwear growth and realigning its operations models.
Barclays is also optimistic on the company's outlook, raising its price target to $132 from $118 a share. The bank said in a recent note:
"NKE remains our top pick as the company 1) continues to accelerate its business transformation, shifting to margin-accretive direct sales, leading with digital penetration, 2) builds its physical footprint of small, highly productive and profitable mono-brand stores, and 3) leverages wholesale partnerships with limited capital investment for its 'Marketplace of the Future,'. "
Bottom Line
Nike is one of those companies whose massive investments in technology is paying off during the pandemic and transforming its business to become leaner and more profitable. Its latest earnings report proves that point.