While broader markets are currently giving up gains of the past few months, investors wonder if there are defensive spaces to weather the storm during these choppy weeks. One such sector possibly is 'sin stocks,' which include shares of alcohol, tobacco, gambling, weapons and adult companies.
The addictive nature of these products and services typically means most people continue to indulge in these vices in both economically good and bad times. Thus, these companies usually have steady revenue and cash flows, as well as juicy dividends. Therefore, they tend to perform well in recessionary times as passive-income seeking investors include them in their portfolios.
In previous weeks, we had discussed investing in sin stocks in the context of exchange-traded funds (ETFs). Today, we look at two global stocks, British American Tobacco (LON:BATS) (NYSE:BTI) and Diageo (LON:DGE) (NYSE:DEO), members of the FTSE 100 index.
British American Tobacco
London-based British American Tobacco is one of the biggest international tobacco companies by revenue. Several of its well-known brands include Dunhill, Lucky Strike, Rothmans, Kent and Camel. The company has also been investing in 'next-generation' products, which it labels as "potentially reduced-risk" that do not burn, but rather heat tobacco.
British American Tobacco Daily
In late June, British American Tobacco announced half-year results that showed strength in emerging markets. Revenue increased by 0.8% year-on-year (YoY). Cigarette volume sales were also up by 0.5%. Management highlighted that 10% of revenues now come from non-combustible categories due to the increasing customer base.
Since the lows seen in March, most tobacco companies, including BATS, have been volatile. The tobacco sector has not fully recovered from its lows seen earlier in March, and in 2020, BATS stock has gone down by 15%, currently hovering at 2,815p (around $35 for U.S.-based shares).
Another FTSE tobacco group, Imperial Brands (LON:IMB) (OTC:IMBBY), is also down more than 25%, which technically puts the shares in a bear market territory. Similarly, shares of Altria Group (NYSE:MO) and Philip Morris International (NYSE:PM) have decreased by 24% and 12%, respectively.
Forward P/E and P/S ratios of BATS stock stand at 8.33 and 2.47, and the current price level supports a dividend yield of 7.5%. We'd look to buy the shares, especially if they decline another 3%-5%.
Diageo
Shares in the multinational drinks group Diageo have also had a challenging 2020 as they are down 21%. That metric is not too surprising given the pressure on global leisure and hospitality industries. On the other hand, the picture is mixed for Diageo's peers in the industry. For example, Anheuser Busch Inbev (NYSE:BUD) and Constellation Brands (NYSE:STZ) are down about 36% and 2%, respectively. Yet, Boston Beer Company (NYSE:SAM) is up more than 135%.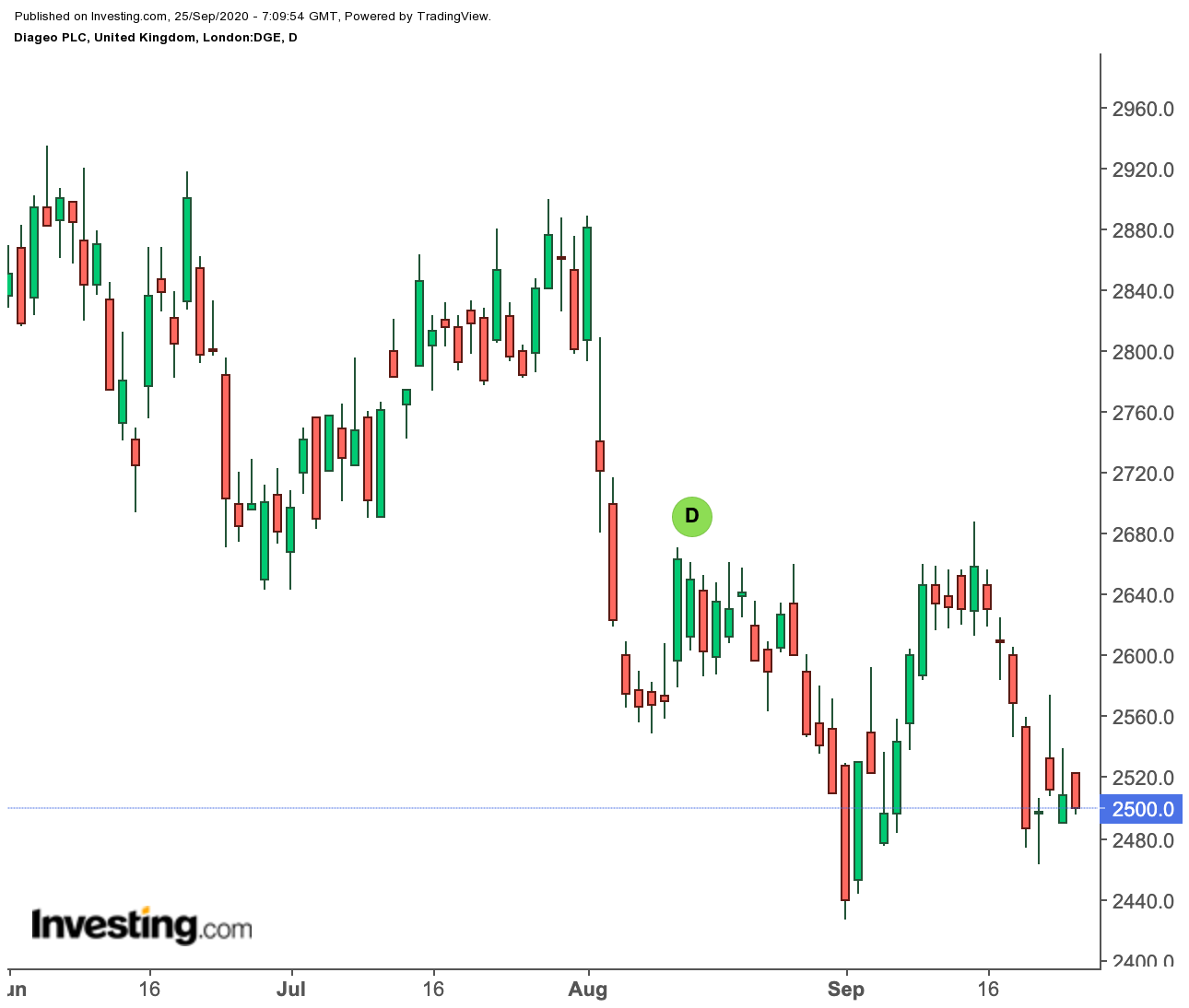 Diageo Daily
DGE owns more than 200 brands, including Baileys, Captain Morgan, Don Julio, Guinness, J&B, Johnnie Walker, Smirnoff and Tanqueray. In recent years, it has also introduced new launches or brand extensions, such as Gordon's Pink, Haig Clubman and Smirnoff Cider.
In early August, Diageo announced subdued preliminary results for the year ended 30 June. Net sales were down 8.7% YoY, driven by organic declines. Growth in North America was more than offset by declines in the rest of the world. Due to volume declines, organic operating profit was also down 14.4%.
According to CEO Ivan Menezes:
"We have taken decisive action through the second half of fiscal 20, tightly managing our costs, reducing discretionary expenditure and reallocating resources across the group."

"While the trajectory of the recovery is uncertain, with volatility expected to continue into fiscal 21, I am confident in our strategy."
The current price of 2,509p ($128 for U.S.-based shares) means a dividend yield of about 2.75%. However, despite the recent drop in price, DGE stock still trades on a relatively high forward P/E ratio of 22.27. Similarly, P/S ratio is over 5.
Although the U.S. and Europe still remain its major markets, during the decade the company is likely to see growth in emerging markets, too. Therefore, we still believe in the bull case for the drink group. Yet, we'd wait for a better time to buy, possibly around 2,250p (or $115 for U.S.-based shares).
Bottom Line

What can investors expect from British American Tobacco and Diageo?
We believe brand loyalty shown by most smokers and drinkers gives BAT and DGE pricing and competitive power within this non-cyclical market. Those unable to kick the nicotine or alcohol habit will continue to support revenue growth in this sector in the quarters ahead. However, near-term trading will possibly stay choppy at best until the volatility in broader markets decreases, probably towards the end of the year.