Shares of Aurora Cannabis (NYSE:ACB), (TSX:ACB) took another hit yesterday, dropping an additional 5% on the day after it was announced that the Alberta-based marijuana grower cut ties with its once highly-touted special adviser, billionaire investor Nelson Peltz.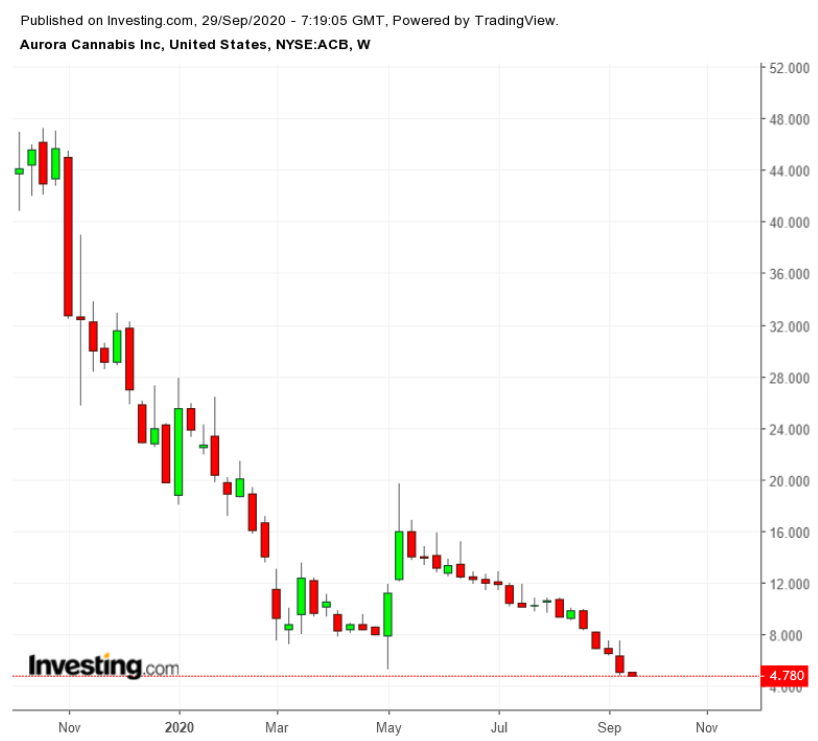 ACB Weekly TTM
Peltz, the director of the fast-food company Wendy's and the co-founder of the New York multi-billion-dollar asset management firm Trian Fund Management, joined the company in March 2019 to help Aurora expand its operations on the international stage. But during Peltz's 18 months with the grower and distributor of medical cannabis, the company lost about US$2.6 billion (C$3.5 billion), according to estimates.
The company made the announcement in a release outlining how it will hold its annual general meeting on Nov. 12 in a virtual-only format due to the COVID-19 pandemic.
According to a report in Marijuana Business Daily, Aurora granted Peltz options to buy almost 20 million shares at a price of C$10.34 (USD $7.73). The stock has since dropped about 96%. Aurora stock closed yesterday at US$4.78, C$6.50 on the TSX.
Last week, Aurora reported a net loss of more than C$1.8 billion for its fourth quarter, ending the fiscal year with a C$3.3-billion loss (USD $2.5B). Net revenue for the quarter that concluded June 30 was C$72.1 million (USD $53.9M), down about 4.5% from the previous quarter.
Biggest European Cannabis Fund Created
A London-based investment firm has announced it is seeking to raise US$100 million for a new cannabis-focused investment fund.
Chrystal Capital Partners is creating its Verdite Capital Fund. If it meets its goal, it will be the largest dedicated cannabis fund in Europe, according to media reports. The fund will be a "diversified portfolio of high-quality investments in the legal regulated medical cannabis sector," according to Chrystal Capital.
It will include companies that produce cannabis-derived drugs and other CBD products, with half of its assets based in North America. The fund will stay away from companies that operate in the recreational marijuana market.
Verdite will be one of the few investment funds focused on the cannabis sector based outside of North America.
California Wildfires Threaten Outdoor Cannabis Crop
The California wildfires are threatening the largest outdoor cannabis crops, which are estimated to be worth millions.
One of the largest fires is making its way to one of the most lucrative legal outdoor cannabis growing areas in the U.S., a corner of northern California known as the Emerald Triangle. The crop there, where plants now tower into the sky, some as tall as 16 feet, are in full budding. The legal crop is estimated to be worth in the neighborhood of USD $20 million (CAD$27.8M).