Two technology firms, Palantir (NYSE:PLTR) and Asana (NYSE:ASAN), each made their debut on public markets Wednesday after using a non-traditional process–direct listing–to make an initial public offering (IPO).
Via a traditional public offering, privately-held companies issue shares that can be purchased by the public in order to raise capital for the business. In a direct listing, existing shareholders can sell their shares, but the company doesn't raise any cash. That is why only a small number of companies are willing to go through with a direct listing in lieu of a traditional IPO. Companies that opt for this method avoid the traditional IPO route, where executives face investors to explain their business models and the future growth potential through roadshows. Direct listings are also a cheaper way of going public.
In order to understand which newly-listed company might be a better fit for your investment portfolio, here's a look at these two IPOs:
Palantir
Denver, Colorado-based Palantir is a data mining firm whose software is used by government agencies and large companies to collect, analyze and map large data sets. Palantir's technology assembles and combines ever-changing data streams into what it calls a single "source of truth," which its clients can then filter for meaning and use to make decisions.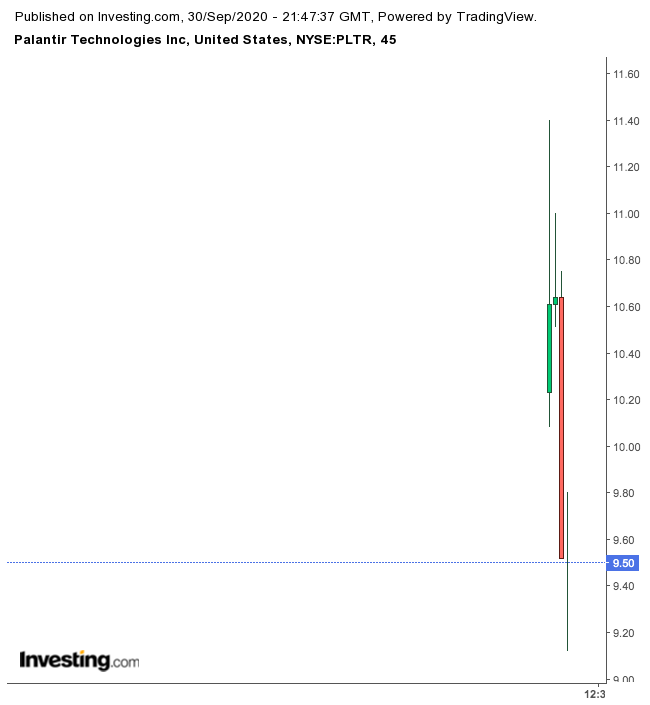 Palantir 45-Minute Chart
Palantir clients include drug-maker Merck and United Airlines, which uses the software to optimize flight routes. The U.S. government, on the other hand, uses Palantir tools for tasks including identifying roadside bombs in Afghanistan, catching tax cheats and, more controversially, locating people who entered the U.S. illegally.
Palantir said in a filing before its listing that its sales are expected to grow 42% this year and are anticipated to reach $1.06 billion. Its revenue rose 25% in 2019 to $742.6 million. For 2021, Palantir said it expects sales growth of greater than 30%.
With these promising growth numbers, investors should note that Palantir has never turned a profit and that about a third of its revenue came from its three biggest customers.
Due to its close ties with the U.S. government and the CIA, some media outlets have questioned the nature of Palantir's tightly-controlled corporate structure. The main target of this criticism is billionaire Peter Thiel, who founded Palantir 17 years ago.
According to a Bloomberg report:
"Thiel will have more control over the company than any other individual or investor group, and an unconventional voting structure will award additional power to Thiel and two other co-founders in perpetuity."
As investors analyze Palantir's business model, one key question is whether its heavy reliance on government contracts is a risk they are comfortable with. Revenue from government contracts made up $345.5 million, or 53% of its overall revenue in 2019.
In the filing, Palantir said the U.S. government agencies using its software include the Department of Health and Human Services, Department of Homeland Security, the Securities and Exchange Commission, the Food and Drug Administration, the National Institutes of Health, the Centers for Disease Control and Prevention, Department of Veterans Affairs, Army, Navy and Air Force.
Asana
San Francisco-based Asana, provides work management tools to track team projects. Founded in 2008 by Dustin Moskovitz, a co-founder of Facebook (NASDAQ:FB), and Justin Rosenstein, a former Google (NASDAQ:GOOGL) product manager, it is also currently a loss-making entity, but with growing sales.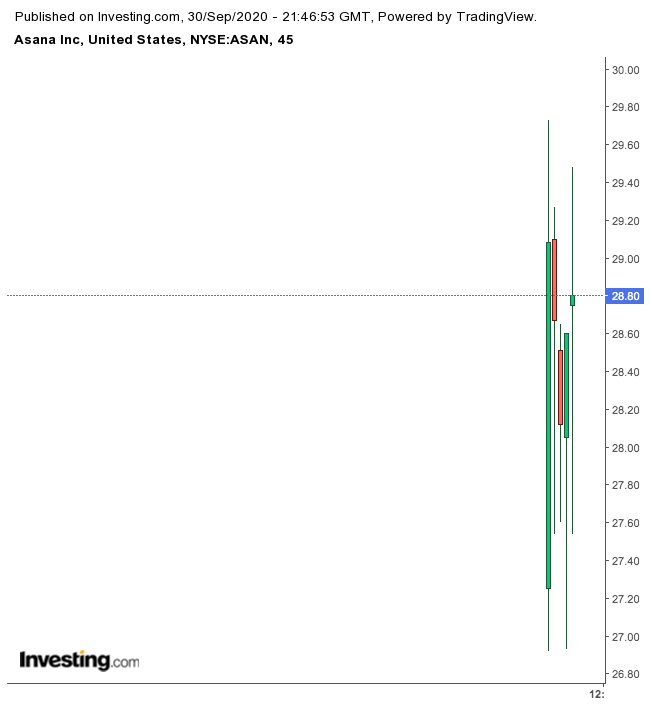 Asana 45 Minute Chart
In its prospectus, Asana showed that it suffered a $118.6-million net loss on $142.6 million in revenue for the year that ended Jan. 31. A beneficiary of the work-from-home shift accelerated by the coronavirus pandemic, Asana reported 57% year-over-year revenue growth for the three months ended July 31. Its net loss during the period jumped to $41.1 million compared with a $15.6-million loss for the same period last year.
"We are well positioned to be a long-term leader in a multi-billion dollar market opportunity," said Dustin Moskovitz, co-founder and chief executive officer, in an earnings release last week.
"Teams are at the center of everything we do. Now more than ever, it's important for teams to operate with clarity, alignment and accountability."
In its future guidance, Asana is forecasting sales of $210.0 million to $213.0 million, representing year-over-year growth of 47% to 49%, and a non-GAAP operating loss of $140.0 million to $136.0 million.
Bottom Line
Both Palantir and Asana have the backing of deep-pocketed investors with solid track-records. That said, Palantir has a stable revenue source via the government agencies as its major clients. Asana, on the other hand, is likely to benefit from the work-from-home environment where companies need tools to track the performance of their remote workers.
Investors looking to invest in these IPOs, could consider dividing their position equally between the two stocks.