Uncertainty about President Donald Trump's health is likely to be the main factor influencing the markets next week, especially after conflicting reports over the weekend surfaced, about his recovery from the COVID-19 infection.
People close to the President offered clashing messages about his health on Saturday after he tested positive for the coronavirus earlier in the week. In a press briefing, his physician said he was happy with the U.S. leader's condition, but after the briefing, media outlets began reporting his condition was still a cause for concern, citing unnamed sources.
Stocks advanced broadly over the five trading days last week, resuming a rally that was interrupted in September on concerns that valuations of technology stocks have gone too far. The Dow Jones Industrial Average rose 1.9% during the past week, after a few weeks of losses, while the NASDAQ 100 added 0.9%.
Though investors likely are focusing on these macro issues to seek a market direction, we've shortlisted three stocks below, which are worth keeping an eye on as well:
1. Tesla
Shares of electric carmaker Tesla (NASDAQ:TSLA) may rebound after Friday's sell-off. The positive reversal would be helped by a report that showed the company delivered a record number of cars worldwide in the third quarter.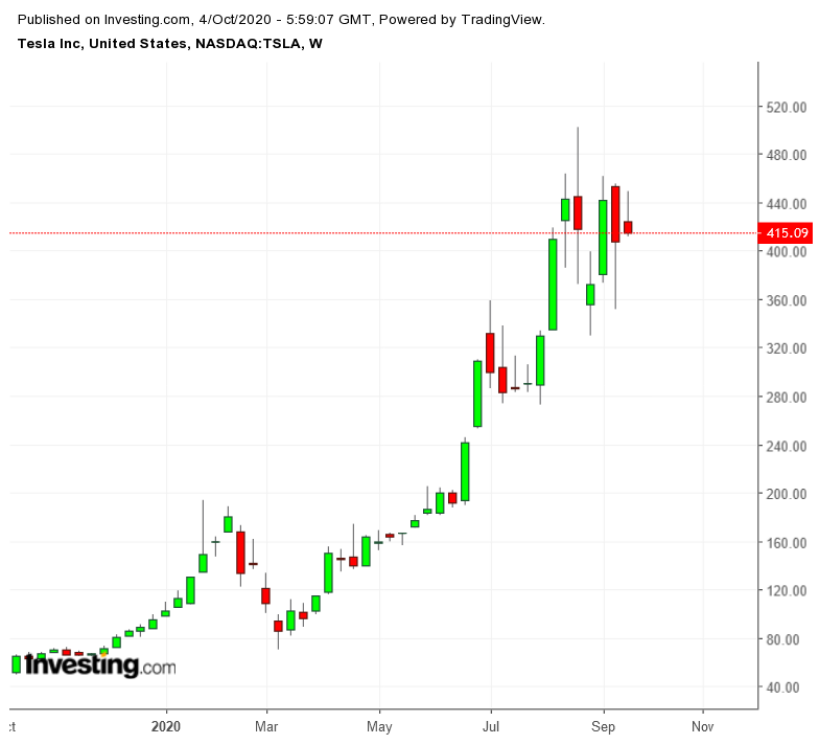 TSLA Weekly TTM
The Palo Alto, California-based auto manufacturer delivered 139,300 cars, eclipsing its prior all-time high of 112,000 in the fourth quarter of 2019 and above the 129,950 projected by analysts. Despite the positive report, shares of Tesla fell 7.4% to close Friday at $415.09. That was part of a broad selloff of stocks after Trump disclosed a positive test for COVID-19. Still, Tesla shares have rallied more than five-fold this year.
One reason investors may have remained unexcited, even after another stellar quarter: Tesla didn't say whether it still would be able to meet the 500,000 vehicles sales target it set for this year. The company has handed over 318,350 cars to customers as of Sept. 30. It will need a blowout fourth quarter of around 181,650 global deliveries to reach its full-year target.
2. American Airlines
Airline stocks, including that of American Airlines Group (NASDAQ:AAL) will come under scrutiny as US politicians try to pass another bailout package to help businesses, including those in the heavily hit transportation sector, avoid mass layoffs.
Airlines have pleaded with lawmakers and the White House in recent weeks for $25 billion more to preserve jobs through March 2021 after a significant rebound in travel failed to materialize over the summer.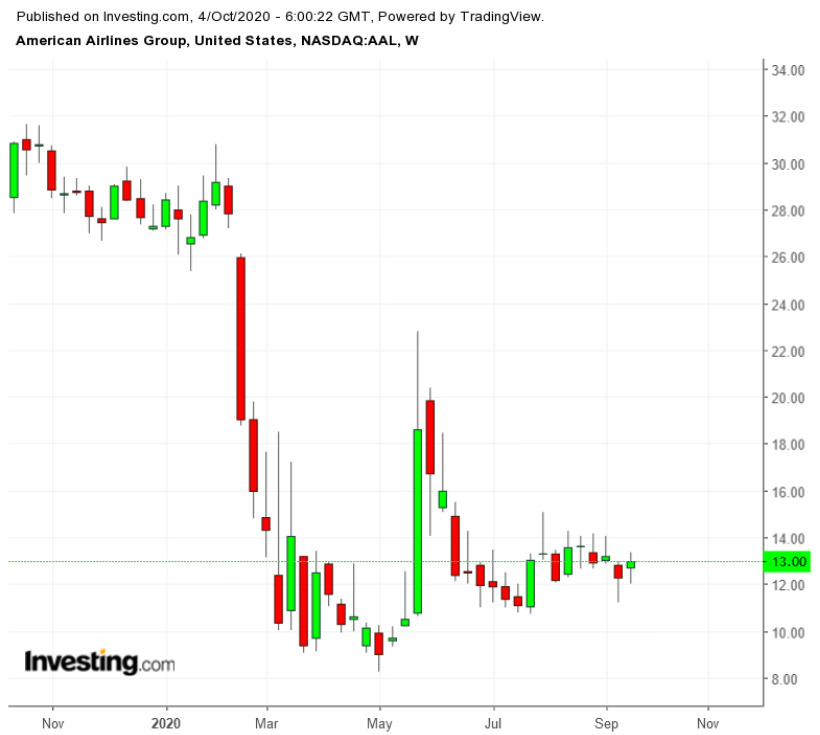 AAL Weekly TTM
Shares of American Airlines gained more than 3% on Friday after House Speaker Nancy Pelosi said the additional aid could be part of a stand-alone bill just for airline support or broader coronavirus legislation.
"As relief for airline workers is being advanced, the airline industry must delay these devastating job cuts," Pelosi said in a statement. Pelosi had asked airlines to defer more than 33,000 furloughs after the terms of a $25 billion federal payroll support package passed in March expired.
3. Paychex
Investors will also focus on the latest quarterly earnings for Paychex (NASDAQ:PAYX), scheduled to be released on Tuesday, Oct. 6, before the market open. The Rochester, New York-based payroll processing and human resources company is expected to report $0.55 a share profit on sales of $893.6 million.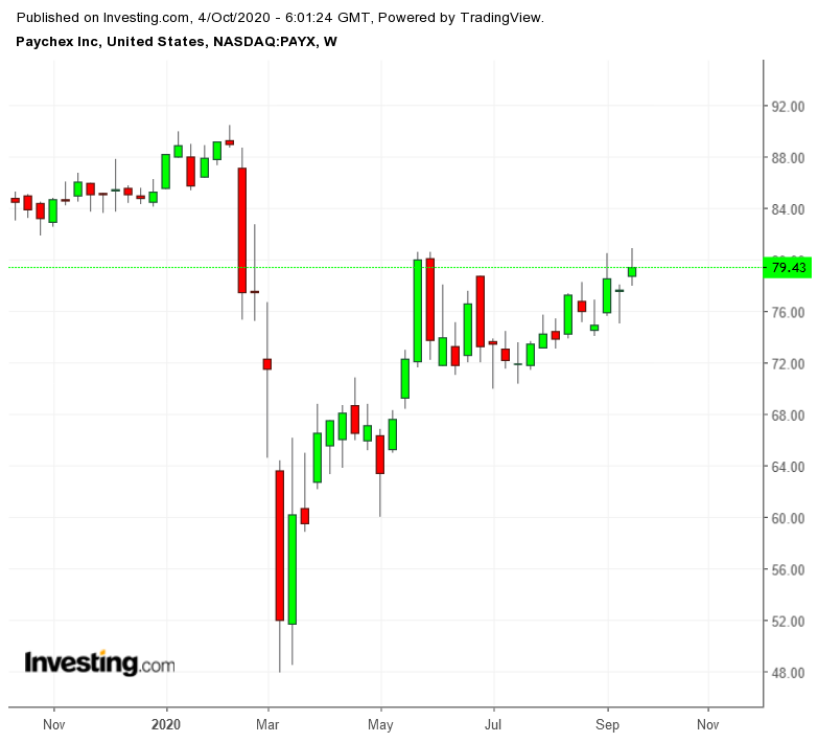 PAYX Weekly TTM
Paychex CEO Martin Mucci told CNBC in August that small business employment is falling again and is becoming as precarious as during the beginning of the U.S. coronavirus crisis.
Paychex offers a deep insight on small and medium companies through its payroll data of 350,000 small business clients, their employment and wage trends as well as impacts by sector.
The stock closed on Friday at $79.43, down about 7% for the year. It has recovered strongly from March when it plunged more than 40%.