Alpha and Omega (NASDAQ:AOSL) is an up-and-comer with a bright future. No Intel (NASDAQ:INTC) or NVIDIA (NASDAQ:NVDA) by any means, the company manufactures a wide array of power control semiconductors that are integral to the very fabric of tech. Alpha And Omega's products can be found in things ranging from charging-cords to battery packs, mobile devices, desktops, solar panels, IoT devices, and electric cars. If there is one thing we know for sure about the current state of the world it is that adoption of tech has accelerated because of the pandemic and that bodes well for this company.
Looking forward, peering into my crystal ball, I see this company well-positioned for the 5G revolution as well. Not only will 5G open an entirely new market in need of power control devices it will unleash the IoT. To keep the IoT in perspective remember that something like 130 new devices are being connected every second and that CAGR for the sector is projected in the high-double digits for the next two to three decades.
Alpha And Omega Guidance "Significantly" Higher
Alpha And Omega made waves with investors this morning when it raised guidance above the consensus and not for the first time. The company issued guidance over the summer along with the Q4 earnings report that was above consensus and did so again today. The company is expecting revenue in the range of $148 to $152 million versus the previous guidance of $133 to $138 million and the consensus $136.0 million.
According to AOS chairman and chief executive officer, Dr. Mike Change:
"Orders and shipments were surprisingly strong across most of our product categories, particularly computing and consumer applications. This was due to robust end-market demand and industry-wide shortages. We are also pleased to see important new design wins starting to ramp, such as smartphone, graphic card and gaming. We believe this performance reflects the effectiveness of our strategy to consistently strengthen our product lines, diversify our applications, and closely partner with leading customers in each product category,"
Along with the increase in revenue the company is expecting margins to come in at the high end of the range. Because of this, earnings are expected to come in "significantly" higher than the consensus forecast. The consensus forecast is EPS in the range of -$0.05. Looking forward, the Q1 weakness is expected to pass. The full-year outlook is for earnings to fall roughly 50%, a figure that appears much to low based on the building momentum I see in the business. The actual results are due out in early November and are sure to move the stock's price.
Alpha And Omega Semiconductors Is A Value Play On Tech-Acceleration
Alpha And Omega Semiconductors is not a bargain when compared to the broad market but it is when compared to its peers. Intel is the cheapest semi stock right now, trading about 9X earnings, but Alpha's 25X earnings is low relative to most within the group. NVIDIA, Broadcom (NASDAQ:AVGO), Analog Devices (NASDAQ:ADI), Skyworks (NASDAQ:SWKS), and even Texas Instruments (NASDAQ:TXN) all trade at significantly higher valuations. I don't think we'll see Alpha And Omega expand to Nvidia's 90X earnings but a small multiple-expansion is not out of the question.
On a technical basis, the stock popped on yesterdaty's news and looks ready to move higher. The 15% intraday gain has the stock trading above resistance and setting a new high but there is a caveat. There is a new resistance level building at the $15 price point that could keep upward movement in check over the next few weeks. The indicators are bullish and support the idea of higher prices but again, there is a caveat. Stochastic is moving into the high end of its range where it can be considered to be overbought. With this in mind, I'd be ready to buy on a pull-back or when the stock breaks above $15.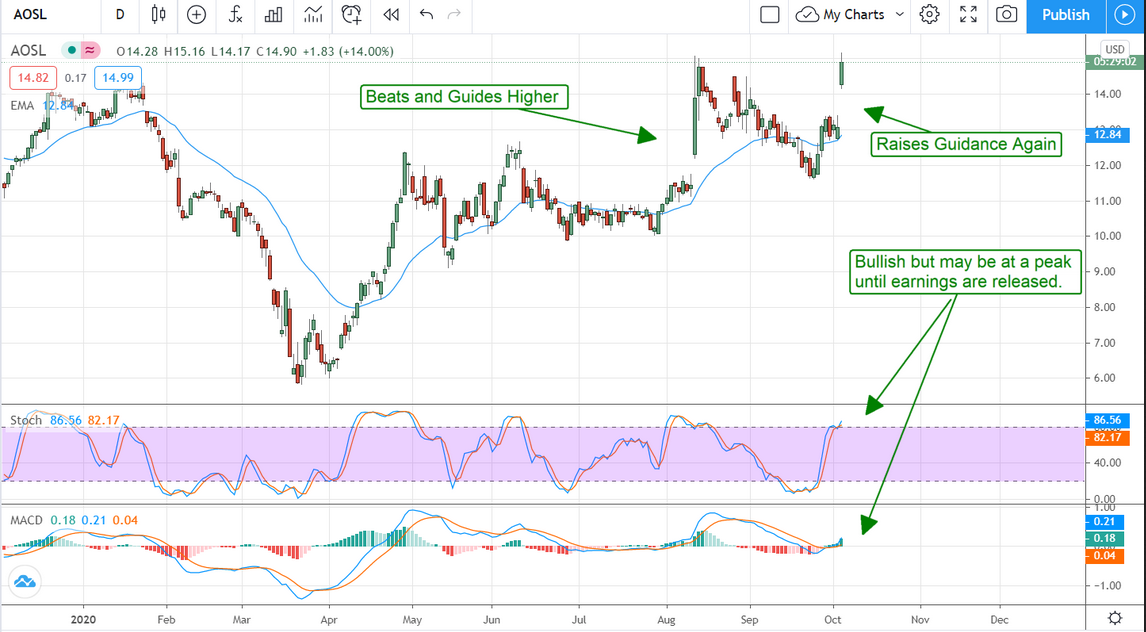 AOSL Stock Chart