Investors in some of the largest semiconductor stocks have no reason to complain this year. After briefly plunging during the March dip, shares skyrocketed as demand for chipmaker products surged, boosted by the gaming and cloud-computing segments as well as by the global work-from-home environment.
Since peaking in early September, however, that powerful sector rally is showing signs of slowing. Besides the general risk aversion for growth stocks, the escalating U.S.-China tech war is one of the major hazards that could derail these gains as both countries impose restrictions on exports, mainly targeting semiconductor makers.
Below, we discuss the biggest gainers in 2020–Advanced Micro Devices (NASDAQ:AMD) and NVIDIA (NASDAQ:NVDA)–to analyze which could be a better buy if we see a pullback in their values during the latest phase of market volatility.
AMD: Expanding Market Share
After falling about 15% in September, AMD stock is back in demand this month.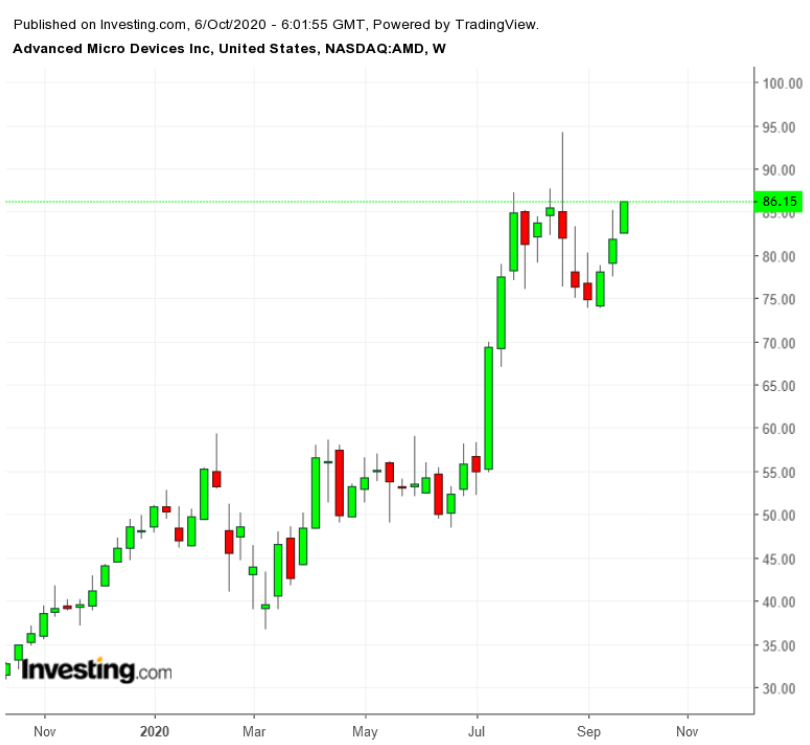 AMD Weekly TTM
This pattern of strong buying on the dip isn't unusual for this powerful player in the chip industry.
Helped by more demand for server chips, the company expects third-quarter revenue to reach about $2.55 billion. AMD is also expecting sales to increase about 32% this fiscal year, driven by strength in PC, gaming and data center products.
Also fuelling the momentum is the expectation that AMD is in a good position to gain on the weakness shown by one of its main competitors–Intel (NASDAQ:INTC). After decades of lagging behind Intel, the world's largest chip-maker, AMD has been catching up in recent years, helped by advances at Taiwan Semiconductor Manufacturing (NYSE:TSM), which makes chips on its behalf. That outsourcing strategy helped AMD at a time when Intel suffered a series of manufacturing setbacks, repeatedly falling behind in introducing new chips.
Though these favorable developments are very much reflected in AMD stock price, which rallied 85% this year, some analysts believe there is more upside. Which means any weakness is a buying opportunity.
According to Cowen analysts, AMD is well-positioned to benefit from Intel's missteps and its shares could hit $100, representing a potential 20% upside. AMD shares closed yesterday at $86.15 a 5.3% gain on the day.
Cowen also says there is a big, upcoming gaming cycle with the next generation of video game consoles about to be released, allowing room for a new player to challenge NVIDIA's entrenched GeForce PC gaming chip franchise. Microsoft's (NASDAQ:MSFT) Xbox Series X and Sony's (NYSE:SNE) PlayStation 5 will each contain a powerful AMD processor.
Demand for such products is likely to expand as the holiday season approaches, and the COVID-19 pandemic continues to force people to stay at home.
NVIDIA: Gaming Strength, Rich Valuation
A strong and impressive rally in NVIDIA shares during the current global health crisis clearly separates this chip stock from the crowd. NVIDIA's shares surged more than 130% this year, hugely outperforming the Philadelphia Semiconductor Index, which is up about 23% since the start of 2020. They stock closed yesterday at $545.70, a 4.44% gain on the day.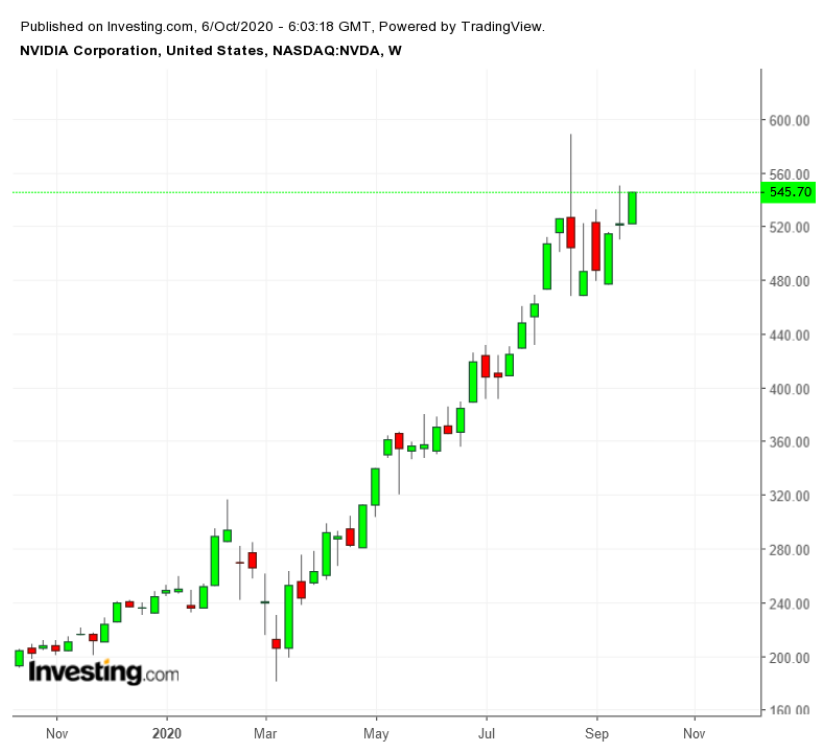 NVDA Weekly TTM
While the Santa Clara, California-based chipmaker is unlikely to escape some demand slowdown from cyclical industries like autos, analysts are focusing on the company's supplies to gaming and data-center clients.
NVIDIA is the biggest maker of graphics chips used in personal computer gaming. Over the past few years, the semiconductor manufacturer has successfully adapted its technology for the Artificial Intelligence market, creating a new multi-billion-dollar business.
Last month, NVIDIA moved to further strengthen its position in the AI market when it agreed to buy SoftBank Group's chip division ARM Ltd. for $40 billion. ARM's technology is at the heart of the more than 1 billion smartphones sold annually. Chips that use its code and layouts are in everything from factory equipment to home electronics.
The majority of the company's sales still come from PC gaming, where NVIDIA's graphics chips create the most realistic experiences. Top-of-the-line GeForce parts cost more than many consumers spend on a whole PC.
Last month NVIDIA released its new graphics chips, GeForce RTX 3090, which it says will double the performance of their predecessors, offering gamers more realistic images at the speed they demand.
After the stock's powerful rise this year, NVIDIA is now one of the most richly valued chip stocks with a price-to-earnings ratio of 95, fetching more than twice the semiconductor group's average multiple of 30. That makes the stock susceptible to correction on any negative surprise, especially when the economic and geopolitical environment remains fragile.
Wedbush analyst Matt Bryson last week, while raising the stock's price target to $600 from $525, also raised valuation concerns and took the stock off its best ideas list.
Bottom Line
Both AMD and NVIDIA are in a great growth mode and could continue to outperform. If you have to choose between the two, AMD is a safer bet, given analysts' concerns about NVIDIA's rich valuations.
That said, long-term investors can wait on the sidelines for a better entry point as the current market volatility could trigger more weakness.