Amazon (NASDAQ:AMZN) and Walmart (NYSE:WMT) have been fighting each other for years to become the preferred shopping destination of millions. With the coronavirus pandemic fueling e-commerce spending and speeding up the e-commerce penetration of total retail spend, the two companies continue to innovate at a rapid pace.
The latest battle between the two is shaping up to be deliveries using drones. While Amazon won approval from the U.S. Federal Aviation Administration in August to operate its fleet of Prime Air delivery drones, Walmart is signaling through a handful of partnerships that it wants to give drones a shot as well.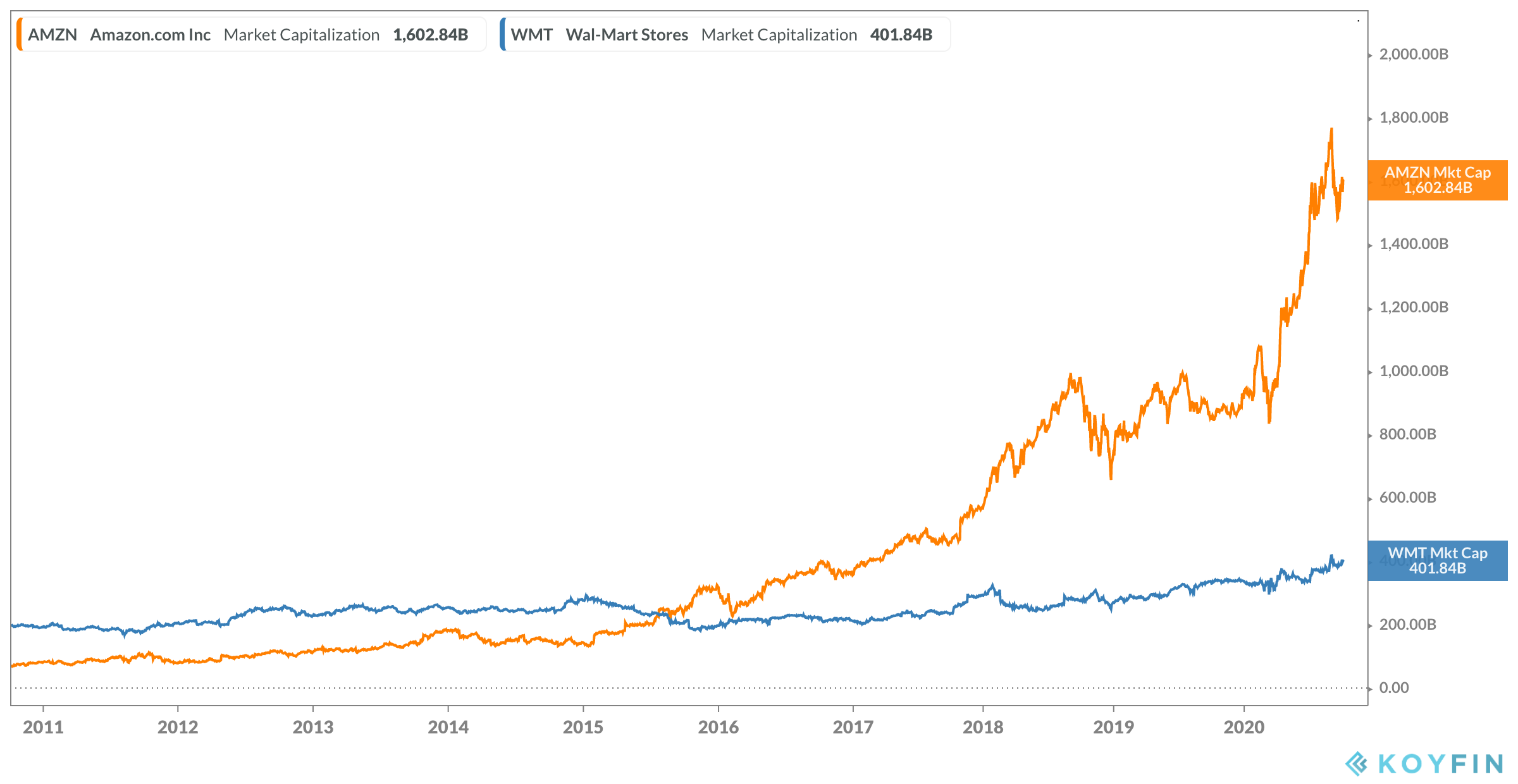 Amazon Inc Stock Chart
Over the last month, Walmart has struck three separate deals with drone operators to test delivering various items.
Walmart announced a pilot program last month with Flytrex, an end-to-end drone delivery company, to deliver select grocery and household essential items to customers in Fayetteville, North Carolina.
Walmart is also teaming up with Quest Diagnostics (NYSE:DGX) and drone services provider DroneUp to test delivering coronavirus tests to people's homes using drones. Customers would administer the nasal swab test and then send it back to Quest Diagnostics for testing. A trial is underway in north Las Vegas, while a trial in Cheektowaga, New York is expected to begin this month. Walmart said:
"There's a lot we can learn from our drone delivery pilots to help determine what roles drones can play in pandemic response, health care delivery and retail,"

"We hope drone delivery of self-collection kits will shape contactless testing capabilities on a larger scale and continue to bolster the innovative ways Walmart plans to use drone delivery in the future."
Walmart also struck a partnership with drone delivery company Zipline to deliver select health and wellness products in an attempt to go after the quickly-growing prescription management space. Trials using Zipline's technology will take place near Walmart's headquarters in Arkansas and are expected to begin early next year. Walmart senior vice president of customer product Tom Ward said:
"We'll never stop looking into and learning about what the next best technology is and how we can use it to better serve our customers now and into the future,"
While Amazon began testing deliveries with drones in 2013, it's not surprising to see Walmart decide to partner with drone operators instead of running its own fleet. With Walmart's deep pockets, it wouldn't be surprising to see Walmart acquire the companies if these trials prove to be successful.