By Patricia B. Mirasol
Mounting job losses and bankruptcies, more government support for a green recovery, disruptive trade spats and international disputes, and opportunities in digitalization are the key trends in 2021 according to The Economist Intelligence Unit (EIU), the research and analysis division of The Economist Group.
In its Industries in 2021: A Slow, Painful Recovery report, the EIU forecasts that the global gross domestic product (GDP) will increase by 4.5%—still not enough to return the global economy to pre-coronavirus levels, given the 5.2% contraction expected this year. A return to normalcy is not seen until a safe and effective vaccine is rolled out, and full recovery of the global economy is not expected before at least 2022.
"The main message is that 2021 should see a recovery, but it may only be a partial one, and there won't be enough to lift all boats," said Ana Nicholls, EIU director of industry operation, at a virtual event on the whitepaper held on Nov. 4. "Government support will be needed to stop some boats from sinking, and it won't be even enough to do that unless they manage to latch on to one of the few uplifting trends, particularly green recovery and the wave of digitalization."
JOB LOSSES AND BANKRUPTCIES
Some companies, like those in consumer goods, will experience job losses and bankruptcies as businesses go online. Retail bankruptcies will spill over to 2021, and department stores that have already been struggling pre-pandemic will be vulnerable. According to Barsali Bhattacharyya, EIU industry briefing manager, government support next year may come in two forms: targeted measures such as tax relief for specific industries, and raised taxes to repair weak public finances.
"We expect countries in developing Asia to raise taxes, but they will probably do this by focusing on specific products so as not to damage weak consumer sentiment. An increase in sin taxes on tobacco and sugary products is likely," she said.
SUPPORT FOR A GREEN RECOVERY
Governments with depleted tax revenues will focus support on sectors that either have the strongest growth prospects or feed into long-term policy goals. Markets in Southeast Asia will see a strong growth in renewables. China's carbon-neutral goal is expected to be carried over in 2021.
At a November 4, 2020 webinar discussing the aforementioned whitepaper, Ms. Nicholls said, "The big win for renewables would be if a Biden administration takes the US back into the Paris agreement and unleashes around $2 trillion in clean energy into that sector."
TRADE SPATS AND DISPUTES
The US-China conflict will continue regardless of who wins this month's US presidential election. The focus of the conflict will shift from tariffs to technology, affecting Chinese telecommunications companies like Huawei.
According to Ms. Bhattacharyya, the latest round of US sanctions has cut off Huawei from crucial segments in the tech supply chain. "The outcome of the US elections will play a role, but both presidential candidates support efforts to curtail Huawei."
The automobile industry will also be affected by this spat.
"Both [US presidential] candidates are prepared to impose heavy tariffs on auto parts imported from China to encourage US producers to source locally," said Arushi Kotecha, a research analyst at the EIU's industry briefing team. "We expect the US-China rivalry to spill over to technology, including in the high-tech parts necessary for electric vehicle development and self-driving vehicles."
OPPORTUNITIES IN DIGITALIZATION
Online shopping will generate new companies and new jobs, thus making up for some of the losses in real-world retailing. Food and groceries will account for a lion's share in online sales. Online shopping will also trigger the growth of new financial services such as digital payments, as well as the expansion of telehealth.
The main challenges in online retail include high risks of cyberattacks and data theft. "Regulatory scrutiny will also increase, especially for international e-commerce giants such as Amazon and Walmart," added Ms. Nicholls.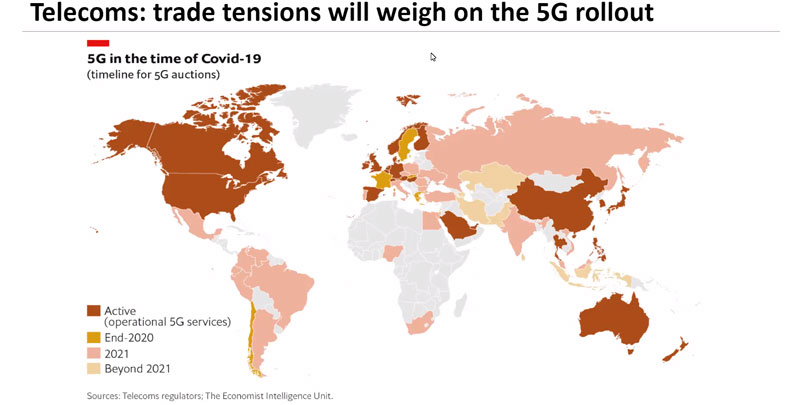 The EIU anticipates growth in 5G and edge computing investments as well, the latter due to the enactment of data localization law in countries like China, India, Vietnam, Indonesia, and Russia. "These countries have either introduced or are in the process of finalizing the regulation of data localization in order to regulate cross-border data flows," said Ms. Bhattacharyya. "These laws will mandate the local storage of data, unlike the current practice where data is stored in remote servers abroad."